June 18, 2019
Wet Weather Leads to Increased Boron Deficiencies
With the abundant rains this spring, we are seeing an increase in boron deficiencies over typical years and anticipate that corn and soybeans will be very responsive to foliar applied boron in geographies that experienced above average rainfall. Boron is very mobile in the soil compared to other micronutrients (much like nitrates and sulfates). This can be problematic during wet weather conditions and lead to increased boron deficiencies that negatively impact plant productivity and yield.
BRANDT SMART SYSTEM®
Foliar Application Recommendations
Corn
Soybeans
CLICK HERE to download the PDF
Classic Signs of Boron Deficiency
Boron deficiencies show up differently in corn and soybeans. Classic signs of boron deficiency on corn include small white spots and rippling on the leaves. They are presented as white spots scattered between veins. With more severe deficiencies, you will see shortened internodes and the whorl will not properly unfurl.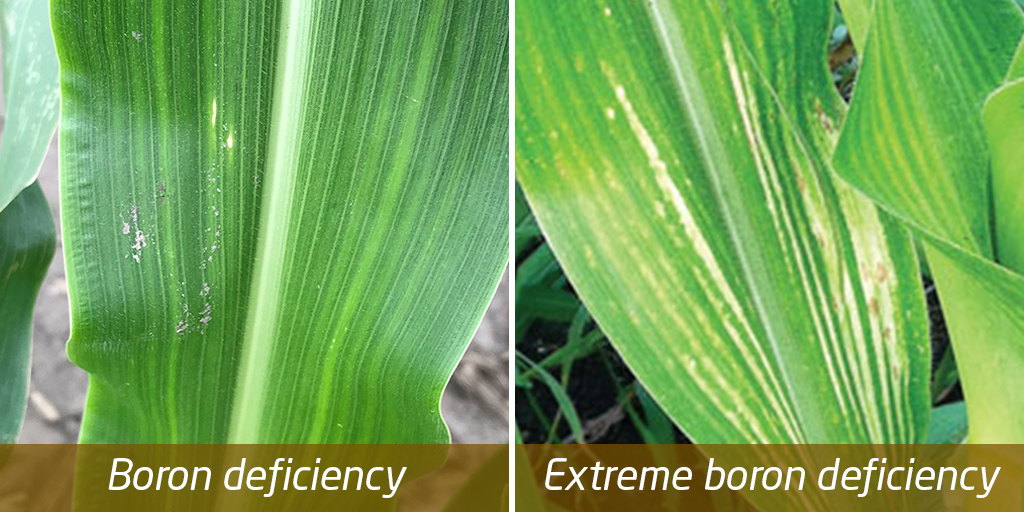 In soybeans, signs of boron deficiency include shortened and swollen internodes (similar to deficiency symptoms in corn). Leaves may become puckered and not fully expand. They may also be thicker than normal and darker in color. Boron deficiencies in soybeans may also decrease pod set and lateral branching.