Illinois Agronomy Update (Aug 31, 2021)
August 31, 2021
Info to Grow
Corn
Row Crops
Soybeans
Crop Protection
Plant Nutrition
Blog
Corn GDU Update and Predicted Hybrid Maturity Dates
Location
Planting Date
GDU Accumulation
August (30)
*Predicted
Black Layer Date
*Freeze Chance Before
Black Layer
Sangamon Co.
April 5
April 19
May 6
June 5
2835
2726
2559
2124
Aug 30
Sept 4
Sept 13
Oct 15
<1%

54%
Logan Co.
April 5
April 19
May 6
June 5
2788
2676
2515
2093
Sept 1
Sept 7
Sept 16
Oct 29
<1%

65%
Montgomery Co.
April 5
April 19
May 6
June 5
2849
2739
2572
2135
Aug 30
Sept 3
Sept 12
Oct 12
<1%

36%
*Predictions are based on a 113 day hybrid with 2825 GDUs until black layer (DKC 63-90/91).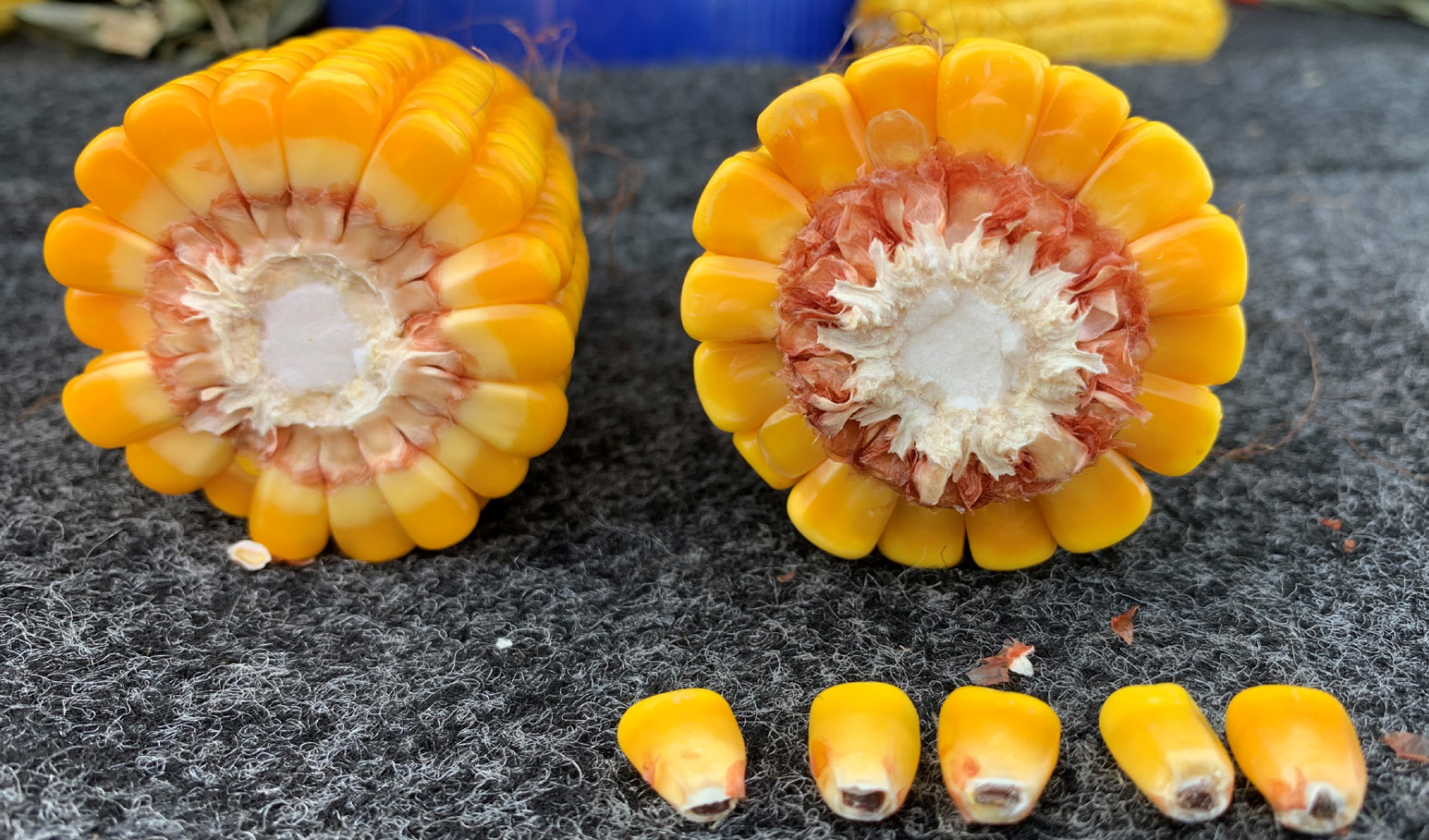 DKC 63-90 (left) has reached just below half milk line, while DKC 61-41 (right) has reached black layer on 8-25-21 in Athens, IL. Planted on 4-7-21.
Corn GDU Update and Predicted Hybrid Maturity Dates
Corn Hybrids - (GDUs Until Black Layer)
Planting Date
Predicted Black Layer Date
DKC 59-82 - (2725)
April 5
May 6
June 5
Aug 26
Sept 8
Oct 5
DKC 61-40/41 - (2775)
April 5
May 6
June 5
Aug 28
Sept 10
Oct 10
DKC 63-90/91 - (2825)
April 5
May 6
June 5
Aug 30
Sept 13
Oct 15
DKC 63-57 - (2825)
April 5
May 6
June 5
Aug 30
Sept 13
Oct 15
DKC 64-64/65 - (2835)
April 5
May 6
June 5
Aug 31
Sept 14
Oct 16
DKC 65-95 - (2880)
April 5
May 6
June 5
Sept 2
Sept 16
*
DKC 66-17/18 - (2900)
April 5
May 6
June 5
Sept 3
Sept 17
*
DKC 67-94/37 - (2925)
April 5
May 6
June 5
Sept 4
Sept 19
*
* Indicates not a recommended hybrid for planting date in this region. Predictions are based on GDUs in Sangamon County, IL.
We have begun to reach black layer for some of our earlier season corn hybrids at the early April planting dates. Many of these predicted black layer dates have continued to increase by a day or two each week because of the recent above average temps. I would expect these dates to become more stable in the coming weeks due to average temps forecasted in September. If customers have planted DKC 61 41, they need to be on the lookout for this hybrid to get out of the field first if possible. It's drying quick and is ahead of schedule on reaching black layer and this hybrid favors early harvest.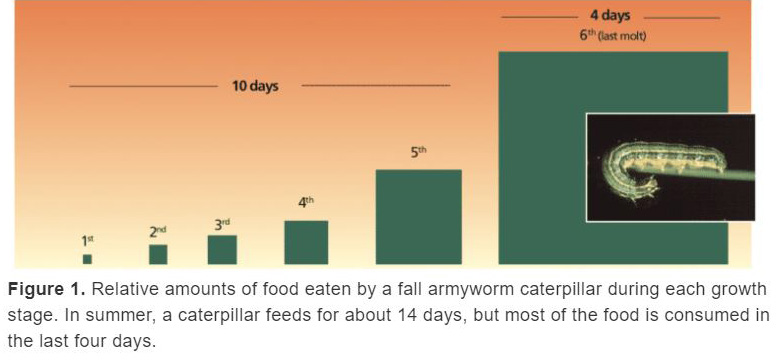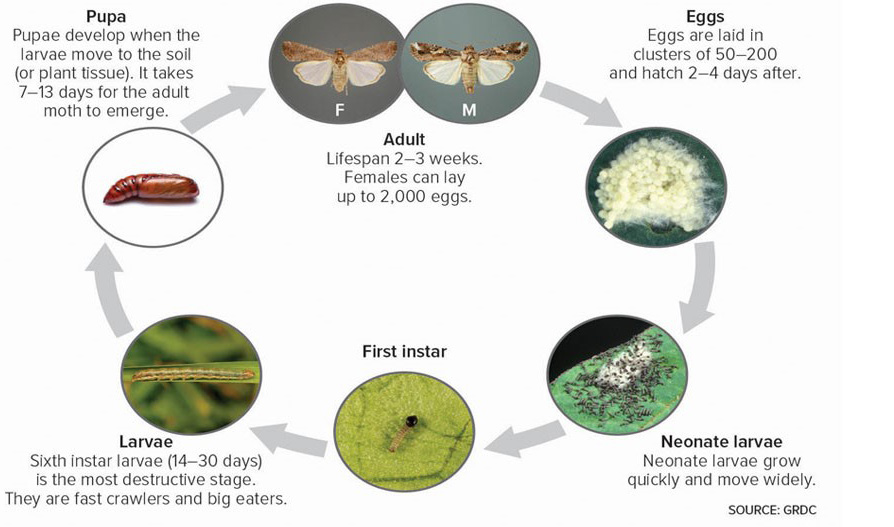 If insecticide applications are needed here are some tips:
Pyrethroids (Mustang Maxx, Karate, Warrior II) will provide more immediate knockdown but have a shorter residual. They will also cease to provide control following a rain. (We did have scattered rain last week when many armyworm insecticide apps were made, which may have reduced control. Go back to fields and scout).
Under heavy pressure, the ideal insecticides for controlling armyworm are the diamides  Group 28) which include chlorantraniliprole (Prevathon, Besiege). If you have these products immediately available to you, this would be my recommendation.
Pay close attention to PHI for specific products. For example Warrior II has a 7 day PHI for alfalfa hay, Prevathon has a 0 day, Mustang Maxx 3 day, Lorsban 21 day, and Besiege 7 days.
So where did these things come from and why are they so bad in 2021?
High survival rate in the south in winter of 2020/2021
High moisture levels are ideal for eggs/hatch which points to the south of had plenty of, as well as this geography
Multiple generations per year allow for insects to migrate from the south to the north
Southern flow weather patterns have brought waves of moths northward
They feed on a wide range of hosts but prefer grass crops/forage source. Of all broadleaves, armyworms will seek out alfalfa first
Stages of development is driven by heat. Which was likely the reason the complaints in much of the area surged last week
Be on the lookout again in about a month in case the 2nd generation in this area has a good hatch.
What to-do with damaged hay crop? Cut/bale damaged crop first. Fertilize! Give the crop nutrients to allow for rapid regrowth. Re-seeding may be necessary. In most cases, perennially crops will not be completely killed from feeding.
Links to sources used:
Fall Armyworm Infestation
Last week, the fall armyworm front swept across much of Southern and Central Illinois. These worms could mainly be found in alfalfa, grass/hay pastures, lawns, and soybeans. This pest causes damage fast, and by the time severe damage is noticed, an insecticide application may be too late to kill the large armyworms. Insecticide applications can still be applied to control smaller larva, however, 100% control of armyworm that are 1.5-2 inches should not be expected. Within about 5-7 days the large armyworms will burrow into the soil and pupate. The graph below demonstrates how armyworm do their most damage in the last 4-5 days of their caterpillar life cycle, typically this is when the feeding damage can be observed from the cab.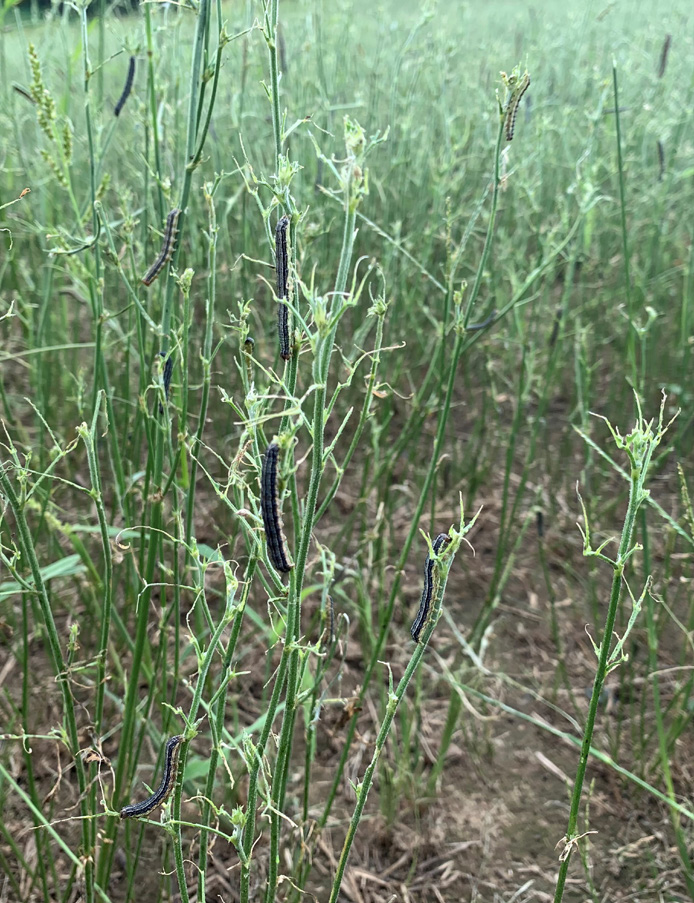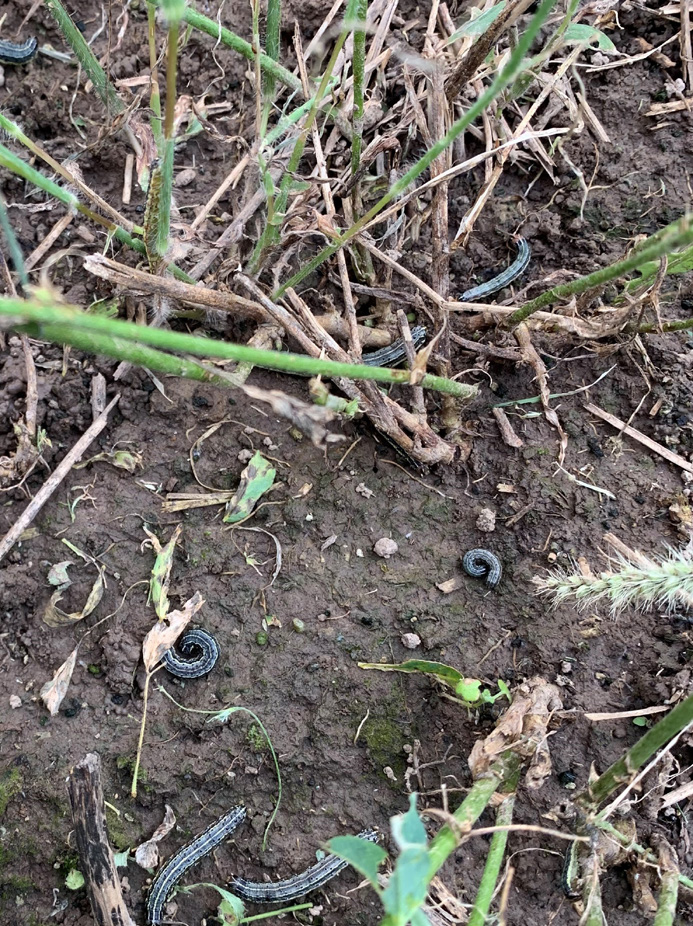 Soybean Disease Update- SDS, the Triazole Effect, and White Mold
Over the last week, I have been seeing more and more signs of SDS showing up. The blue mold color observed on the roots is a way to confirm this presence of this disease over something that looks similar such as brown stem or the "Triazole effect."
SDS can be yield limiting in soybeans and in this particular field I observed lower pod counts (up to 1/3rd lower) per plant on SDS infected plants over those where infection was not present. Some research indicates that yield losses from SDS can range from 20-46% in severe conditions. Recent data from Iowa State shows that by delaying visual symptoms of SDS by 1 week, 3.5 bu/ac yield can be saved! SDS will typically occur in spotty patches (see photo) throughout the field with no pattern. Soybean varieties have varying levels of sensitivity to SDS and in this particular field soybeans planted were rated a 4.
However, I have heard reports from other agronomists that fungicide phytotoxicity has begun to show its face this year with certain fungicides, and the symptoms look very similar to SDS. Reports have been made that Triazole contains fungicides have been causing phototoxicity /interveinal chlorosis that looks very similar to SDS. Reports have noted that Triazole containing fungicide applications made during high temps, high humidity, and intense sunlight and included tank mixes with adjuvants, micronutrients, and/or insecticides will increase the likelihood of the "Triazole Effect." These symptoms will only occur on the foliage present at the time of application, and new growth will be unaffected. Symptoms first occur 2-3 weeks following fungicide application. SDS typically causes symptoms on upper leaves first, and will continue to progress into worse symptoms. Other ways to differentiate symptoms of SDS and the Triazole effect include inspecting roots for blue fungal growth (only present in SDS), splitting open lower stems and looking for brown vascular tissue, and patterns of injury following application lines. Reports have indicted no yield loss is observed from this foliar burn from the Triazole Effect.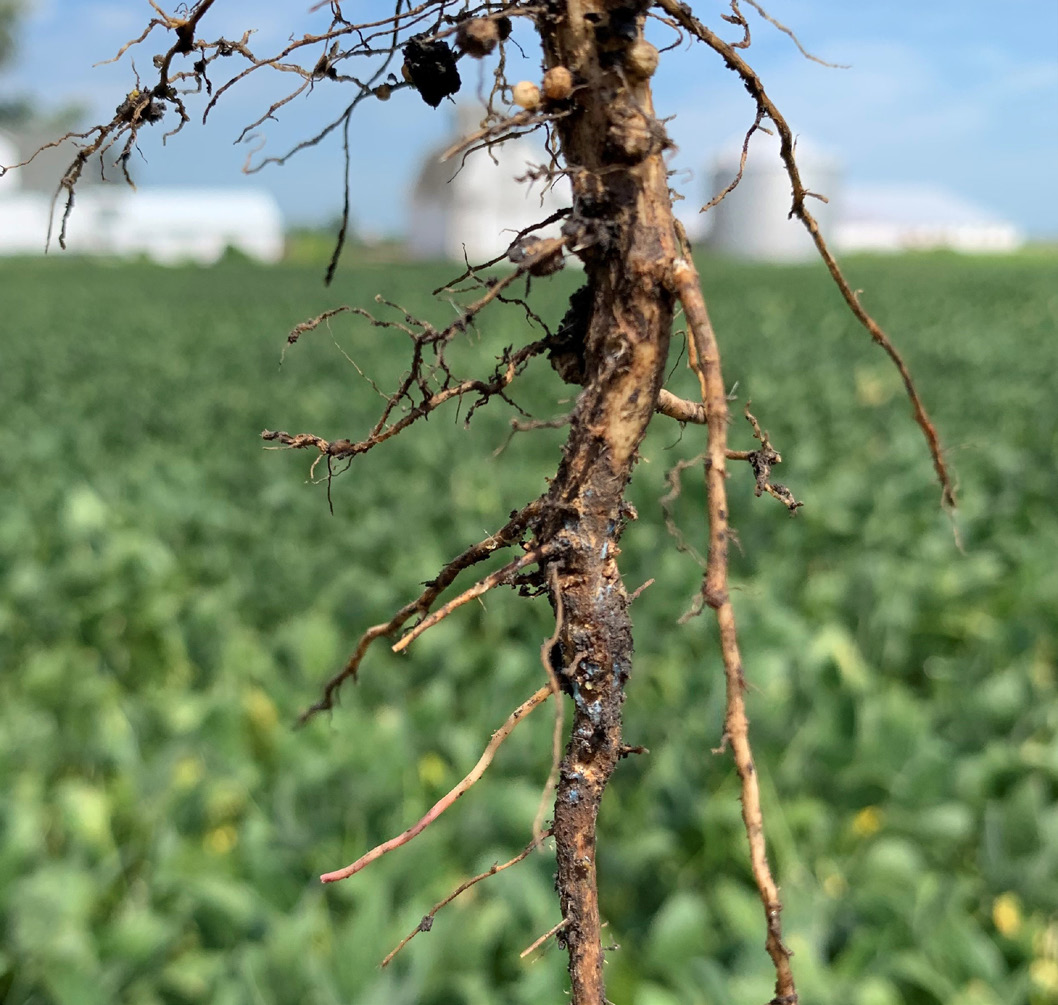 Blue mold growth on soybean roots is a sign of SDS infection.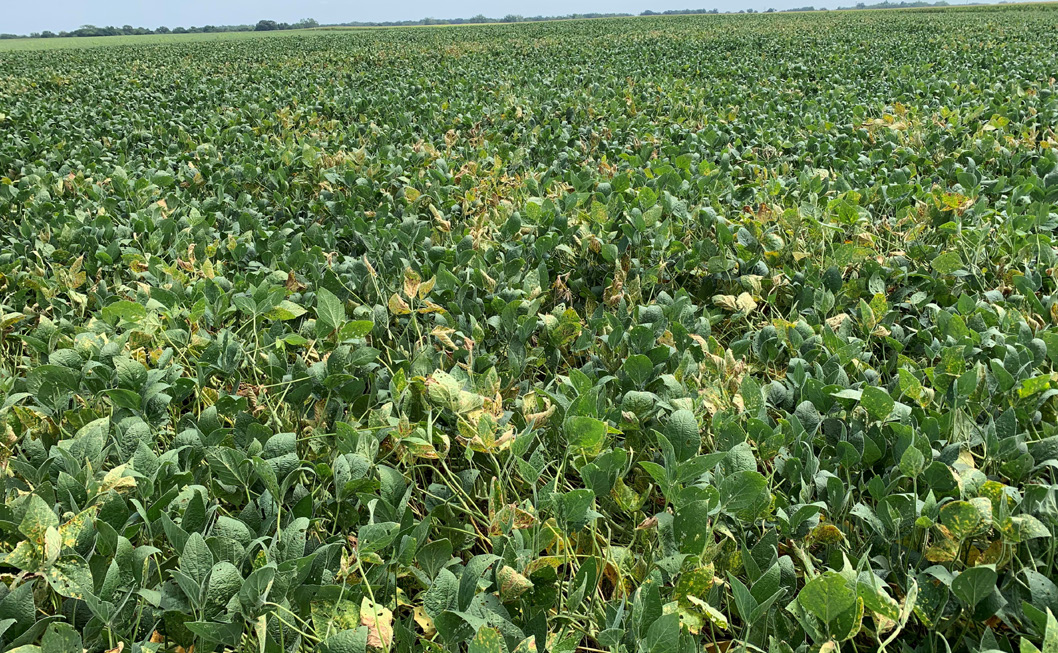 Soybean Disease Update- SDS, the Triazole Effect, and White Mold Continued
White mold is also showing up in fields, mainly to the north. While White Mold is not wide spread across the field, I have been seeing it in patches. Yield loss from this disease were significant. Plants that were infected had very few harvestable pods and had completely killed many of the plants. Be on the lookout for this disease in your soybean fields as harvest approaches and make plants to manage this disease in the future to limit yield losses. Sclerotia, the black tube shaped reproductive structure of white mold can contaminate grain and can be spread across the field at harvest due its presence in multiple structures on/in the soybean plant (see photos).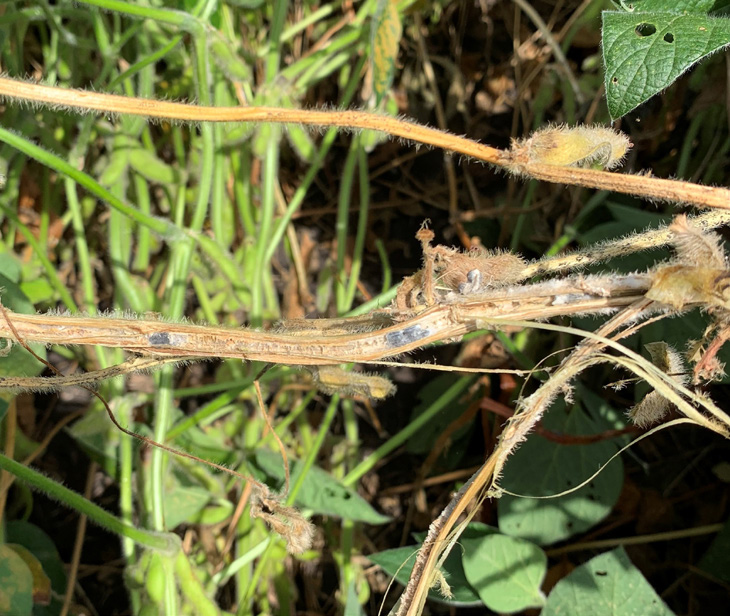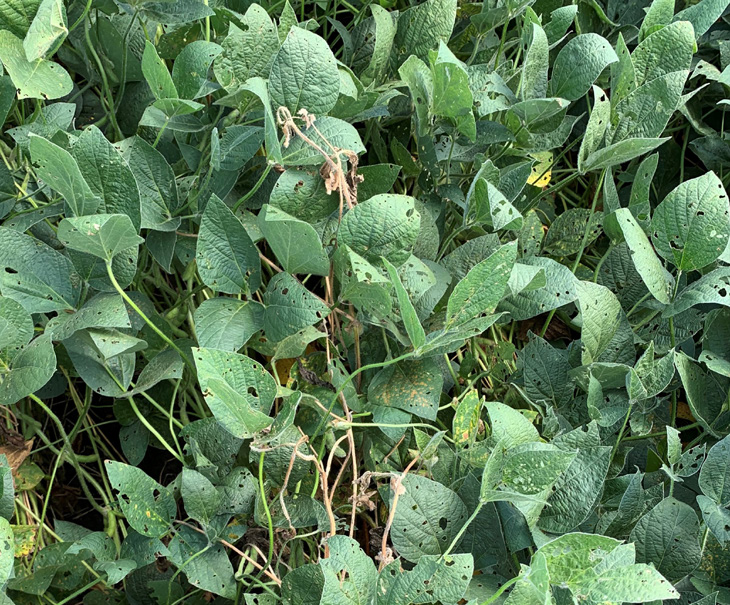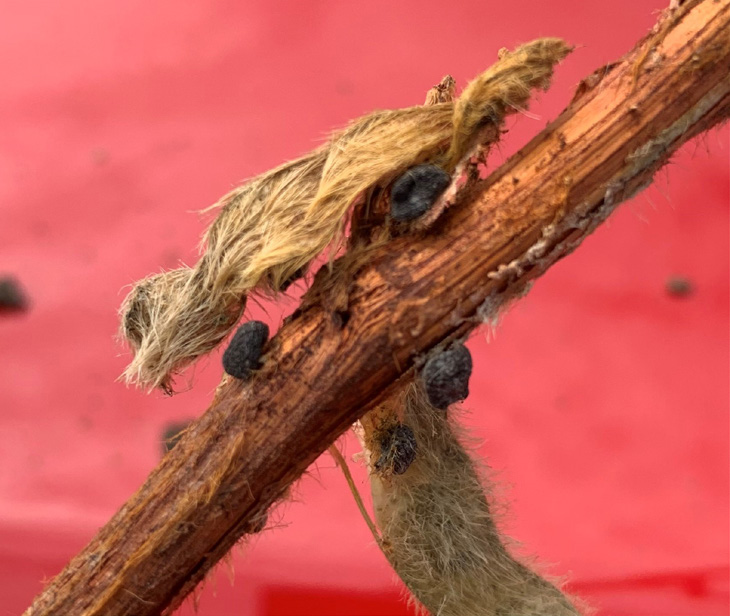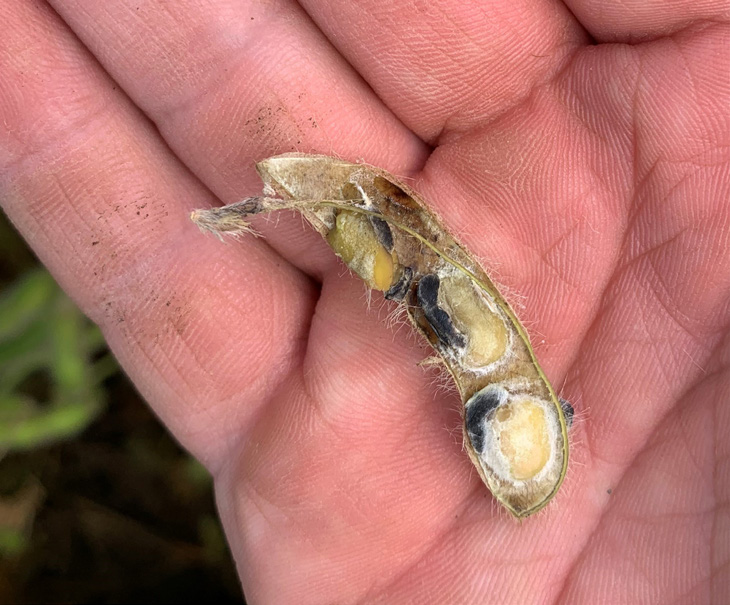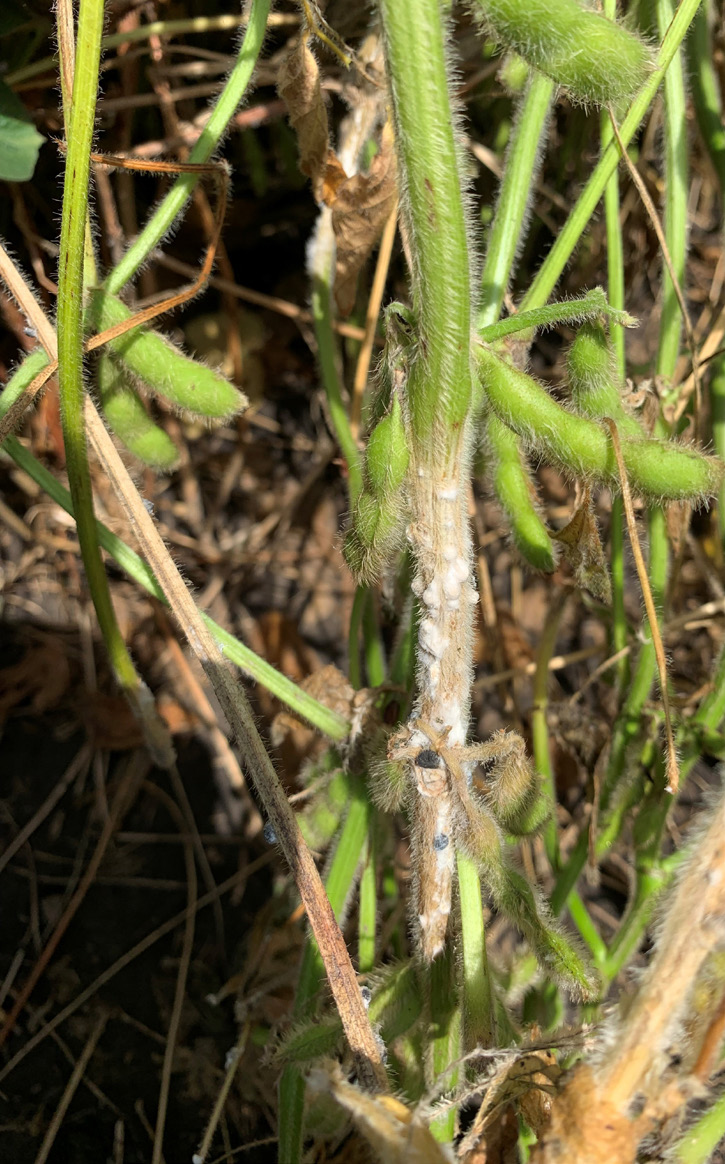 August Rainfall and September Outlook
BRANDT Agronomic Services, LLC: Internal Use Only. 2021 We are well above average for precipitation for the month of August, which is something that doesn't occur too often. The crops sure have taken advantage of this rainfall, as grain fill in corn and soybeans have been excellent to this point. The September precipitation outlook looks to be above normal, which may lengthen harvest season and fall field work.