BRANDT Expands Community Trials
2017 Evaluations to Include Hybrid, Starter, and Hybrid with Starter Analysis
BRANDT will be evaluating additional local management practices through its network of community trials during the 2017 growing season. Following a significant investment in equipment and technology, the BRANDT Community Trial system will encompass comprehensive hybrid and starter nutrition analysis to provide growers with hyper-local information to inform their farming practices.
The BRANDT Community Trial system is designed to generate local data that farmers can use for seed and fertility decisions that's relevant to them. With more than 20 different trial locations, BRANDT's program is the only replicated plot system in Central Illinois looking at hybrid with starter interactions. 
To make this happen, BRANDT invested in a new custom-built four-row planter designed specifically for multiple product and placement applications of nutritional products in line with 4R nutrient stewardship. Data will be collected throughout the growing season and at harvest. This data will drive recommendations to Brandt customers for 2018 farm and crop planning.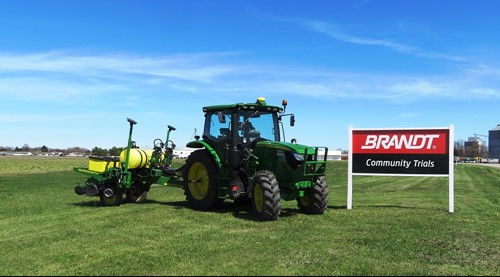 About BRANDT
A leading agricultural company, BRANDT serves growers around the globe. Founded in 1953 by Glen Brandt and his sister Evelyn Brandt Thomas to help Illinois farmers adopt new and profitable technologies, the company has experienced aggressive growth under the leadership of President and CEO Rick Brandt. Innovation, technology and strong customer service are a few of the core beliefs that drive BRANDT today. BRANDT's focus is providing the products and services that give growers the best opportunity for return while building a stronger, healthier and more abundant food supply.