BRANDT Releases Product Finder App for iOS and Android Devices
SPRINGFIELD, Illinois (January 8, 2018) – BRANDT, a leading manufacturer of specialty products for the agriculture market, has released a product finder mobile app, available for iOS and Android. The BRANDT Product Finder app will give users the ability to search and mine BRANDT's entire portfolio of US agriculture products.
Each BRANDT product will feature a label, safety data sheet and brochure. Users will be able to save documents for quick retrieval and offline viewing by adding them to their "library". There are more than 300 products in the BRANDT portfolio.
"As information becomes more necessary on-the-go, our goal is to provide access to product information wherever you are and whenever you need it," said Karl Barnhart, BRANDT Chief Marketing Officer. "For example, if you're in the middle of a field getting ready to apply product, you have application rates and mixing information at your fingertips. And if you've saved the information in your library, you won't even need internet access."
The BRANDT Product Finder app includes a smart search feature so users can quickly find the exact product they are looking for. In addition, there is an easy-to-use filtering system based on product category, type and formulation.
Users will also be able to find contact information for local BRANDT sales reps. Future enhancements include additional tools for purchasing.
The BRANDT Product Finder app can be downloaded, free, by searching "BRANDT Product Finder" in the App Store and Google Play Store, or by using the links below.
Apple devices: https://itunes.apple.com/us/app/brandt-product-finder/id1330010540?mt=8
Android Devices: https://play.google.com/store/apps/details?id=co.brandt.productfinder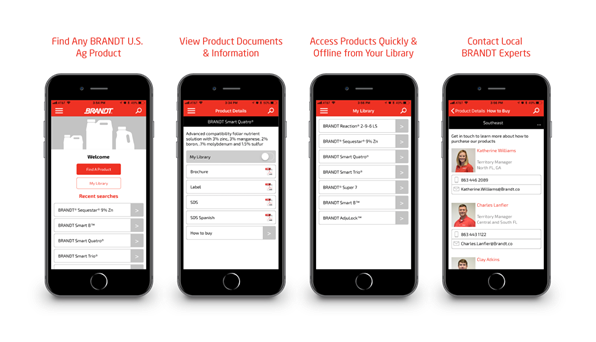 About BRANDT
A leading agricultural company, BRANDT serves growers around the globe. Founded in 1953 by Glen Brandt and his sister Evelyn Brandt Thomas to help Illinois farmers adopt new and profitable technologies, the company has experienced aggressive growth under the leadership of President and CEO Rick Brandt. Innovation, technology and strong customer service are a few of the core beliefs that drive BRANDT today. BRANDT's focus is providing the products and services that give growers the best opportunity for return while building a stronger, healthier and more abundant food supply.