BRANDT® Recognized as "Good as Gold"
SPRINGFIELD, Illinois (April 13, 2016) – At the 8th Annual 2016 Springfield Good as Gold Ceremony, BRANDT was recognized for its 2015 corporate and community service. 
The Springfield Good as Gold Ceremony is a joint effort between the Junior League of Springfield, University of Illinois Springfield and United Way of Central Illinois to honor community volunteers who improve Springfield through their service and dedication. The Good as Gold event annually recognizes the priceless volunteers who are truly worth their weight in gold for making a positive difference in the community.
"BRANDT is proud to be an active, vibrant member of its community," said Karl Barnhart, BRANDT Chief Marketing Officer, in accepting the award. "Our founders, Evelyn Brandt Thomas and Glen Brandt, have instilled a strong sense of community in every person at BRANDT. We truly believe in doing well by doing good."
BRANDT employees are encouraged to contribute time and talent to local organizations as well as The BRANDT Foundation, the company's charitable giving organization. Over the past year, BRANDT and its employees have contributed to the FFA, the 4-H, the Springfield Boys Clubs, the Ronald McDonald House, Simmons Cancer Institute, Memorial Hospital amongst many other charities.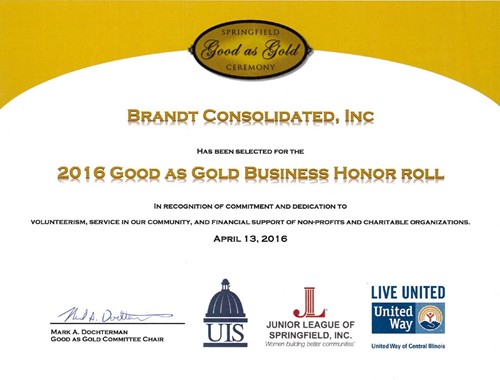 About BRANDT
A leading agricultural company, BRANDT serves growers around the globe. Founded in 1953 by Glen Brandt and his sister Evelyn Brandt Thomas to help Illinois farmers adopt new and profitable technologies, the company has experienced aggressive growth under the leadership of President and CEO Rick Brandt. Innovation, technology and strong customer service are a few of the core beliefs that drive BRANDT today. BRANDT's focus is providing the products and services that give growers the best opportunity for return while building a stronger, healthier and more abundant food supply.