BRANDT Releases 2018 Research Farm Results
SPRINGFIELD, Illinois (December 14, 2018) – BRANDT® Professional Agriculture® has released results from our research farms in Pleasant Plains, IL and Lexington, IL. Results from the 2018 growing season build on a foundation of local research data designed to increase on farm profitability for our customers. Developments that increase yield while sustaining soil and environmental health is the focus of many trials on our research farms. Practices and products developed on our farms are now being implemented at scale with our customers and are helping them achieve maximum yields on their acres.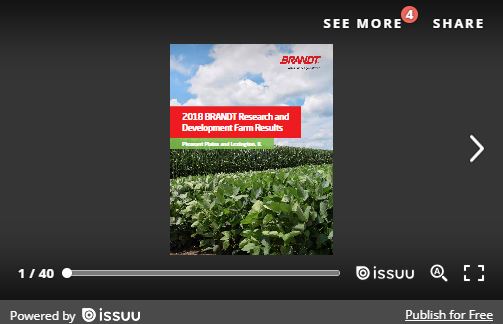 Please click the ISSUU reader to view the 2018 BRANDT Research Farm Book
You can also download the 2018 BRANDT Research Farm for iBooks HERE
About BRANDT
A leading agricultural company, BRANDT serves growers around the globe. Founded in 1953 by Glen Brandt and his sister Evelyn Brandt Thomas to help Illinois farmers adopt new and profitable technologies, the company has experienced aggressive growth under the leadership of President and CEO Rick Brandt. Innovation, technology and strong customer service are a few of the core beliefs that drive BRANDT today. BRANDT's focus is providing the products and services that give growers the best opportunity for return while building a stronger, healthier and more abundant food supply.