Farm Trust and BRANDT Form Partnership
Partnership will enable Farm Trust to sell BRANDT's proprietary Ag specialty products
Springfield, Illinois (20 March 2017) – Farm Trust, a full-service seed dealership in Moweaqua, Illinois, and BRANDT, a leading agriculture retailer and manufacturer of specialty agriculture products, have formed a partnership that will give Farm Trust's customers access to BRANDT's leading portfolio of plant nutrition products.
In addition, the partnership provides capital and funding for Farm Trust, ensuring long-term stability and economic viability for the young, growing organization.
Farm Trust will continue to operate as an independent seed dealership, selling Stone Seed Group products, behind the leadership of its founding partners Jim Woodall, Craig Saddoris and Jay Ryan.
"I'm excited about this partnership because it's good for our customers," said Woodall, President of Farm Trust. "In fact, I think it's a win-win for everyone involved. Our customers will have the ability to buy some of the best nutrition products on the market. BRANDT will gain new business and we'll have long-term security while continuing to do what's right for our customers."
With the announcement, Farm Trust customers will have access to BRANDT's line of leading plant nutrition products including BRANDT Smart Trio®, BRANDT Smart Quatro® and BRANDT® Smart B-MoTM. Custom designed to work with today's technologically advanced plant protection products, BRANDT's proprietary micronutrients promote plant recovery after herbicide application, simplify nutrition application in a single pass with herbicides and provide essential micronutrients.
"On behalf of the whole BRANDT Team, we are proud to be working with Jim, Craig and Jay," said Rick Brandt, President & CEO of BRANDT. "They are building something very special and we're thrilled to help them keep it going for the long term."
Farm Trust customers will be able to purchase BRANDT products in time for the 2017 growing season.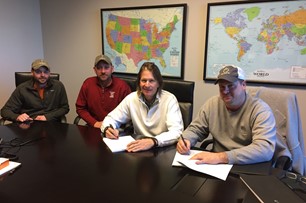 Photo: (Springfield, IL) Jay Ryan, Craig Saddoris, Rick Brandt and Jim Woodall (left to right) sign a partnership agreement, giving Farm Trust access to BRANDT's proprietary micronutrient products.
About Farm Trust
Founded in 2013, Farm Trust in a full-service seed dealership located in Moweaqua, Illinois. Started with the simple concept of always putting customers' needs first, Farm Trust carries the complete line of Stone Seed Group products.
For more information, call Jim Woodall, 217 768-3030
About BRANDT
A leading agricultural company, BRANDT serves growers around the globe. Founded in 1953 by Glen Brandt and his sister Evelyn Brandt Thomas to help Illinois farmers adopt new and profitable technologies, the company has experienced aggressive growth under the leadership of President and CEO Rick Brandt. Innovation, technology and strong customer service are a few of the core beliefs that drive BRANDT today. BRANDT's focus is providing the products and services that give growers the best opportunity for return while building a stronger, healthier and more abundant food supply.