Miguel Paludo and Team BRANDT Win Brazil Porsche GT3 Cup Series Championship
Paludo will represent Brasil in a preliminary race at the 24 Hours of Le Mans in 2017
SPRINGFIELD, Illinois (30 November 2016) –Miguel Paludo and the BRANDT do Brasil Team completed the final event of the 2016 season at Interlagos and captured the Porsche GT3 Cup Series Championship. The final race of the year was a 500km 2-pilot endurance race with Miguel and BRANDT NASCAR Xfinity driver, Justin Allgaier. The top-5 finish secured Miguel's spot as series champion and a spot to represent Brasil and BRANDT against the best Porsche champions around the globe at Le Mans in 2017.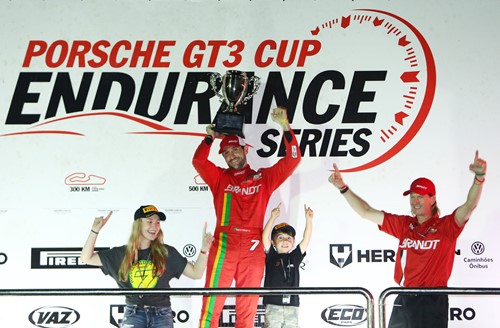 Offering more than 40 specialty Ag products specifically designed for the Brazilian market, BRANDT do Brasil partners with growers to increase yields and boost return-on-investment. BRANDT do Brasil provides Brazilian growers access to one of America's leading input companies with a portfolio of leading-edge agronomic technologies
BRANDT do Brasil offers fertilizers, seed treatments, water conditioners, micronutrients and other specialty products.
About BRANDT
A leading agricultural company, BRANDT serves growers around the globe. Founded in 1953 by Glen Brandt and his sister Evelyn Brandt Thomas to help Illinois farmers adopt new and profitable technologies, the company has experienced aggressive growth under the leadership of President and CEO Rick Brandt. Innovation, technology and strong customer service are a few of the core beliefs that drive BRANDT today. BRANDT's focus is providing the products and services that give growers the best opportunity for return while building a stronger, healthier and more abundant food supply.