BRANDT® to Race in Brazil Porsche Cup
SPRINGFIELD, Illinois (March 10, 2016) – BRANDT, a leading agriculture retailer and manufacturer of agricultural specialty products, is returning to the Porsche GT3 Cup Challenge Brasil to grow the company's profile in the Brazilian agriculture market.
With an office in Londrina, Parana State and manufacturing in Olimpia, Sao Paulo State, BRANDT is committed to expanding its business in one of the world's largest ag markets. BRANDT will be the primary sponsor for the full season on the #7 car driven by two-time series champion, Miguel Paludo.
"Now that we have a manufacturing and distribution facility in Brazil, we can better serve the agriculture markets with our specialty products," said Rick Brandt, President & CEO of BRANDT. "Continuing our relationship with Miguel and the GT3 Series gives us a unique marketing platform to help introduce BRANDT to Brazil's agriculture leaders."
2016 marks the second full-time season BRANDT has teamed with Paludo.
"I am excited to have BRANDT on my car for the second season," said Paludo. "I continue to learn more about BRANDT's business and ways I can help with customer development in Brazil and in the States. I really enjoy telling customers and prospects the BRANDT story."
The Porsche GT3 Cup Challenge Brasil series has an innovative format of shorter "Cup-style" and "Endurance-style" races, each crowning its own champion. For 2016, the Cup-class series will consist of 12 races over six days. The Endurance-class series will be a two-driver format of three events of 500 kilometers each. If a single team wins both championships, they will be invited to race in Le Mans, France.
Justin Allgaier, driver of the BRANDT #7 in the NASCAR Xfinity Series for JR Motorsports, has signed on to codrive two of the three Endurance-class races with Paludo. The co-driver of the third Endurance race will be announced later.
"Wow. Talk about an amazing opportunity," said Allgaier. "I'm looking forward to getting behind the wheel of that BRANDT Porsche. Just like in NASCAR, this is serious racing, against serious racers. This is road-racing at its best. I just want to put on a good show and help build the BRANDT brand."
The first race of the season is March 12 at Autodomo Internacional de Curitiba in Curitiba, Brazil. It is a Cupclass event.
"Last year, we put on some great customer events and we finished second in the Cup series with Miguel in the #32," explained Rick Brandt. "Our sights are set even higher this year. We're looking for a championship in the #7. And with Miguel and Justin working together, I'm confident that we're going to get the biggest trophy at the end of the season.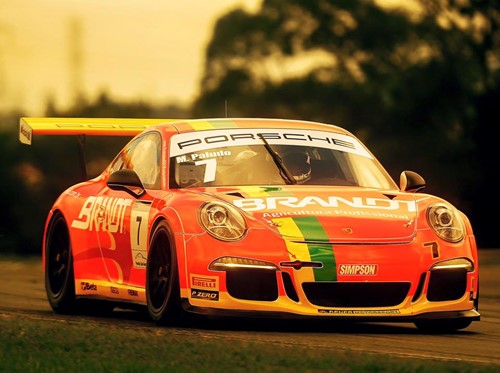 About BRANDT
A leading agricultural company, BRANDT serves growers around the globe. Founded in 1953 by Glen Brandt and his sister Evelyn Brandt Thomas to help Illinois farmers adopt new and profitable technologies, the company has experienced aggressive growth under the leadership of President and CEO Rick Brandt. Innovation, technology and strong customer service are a few of the core beliefs that drive BRANDT today. BRANDT's focus is providing the products and services that give growers the best opportunity for return while building a stronger, healthier and more abundant food supply.