Team BRANDT Finishes Third in NASCAR Xfinity Series
Riverton-native Justin Allgaier finishes 6th at Homestead-Miami Speedway to tie best-ever season results
SPRINGFIELD, Illinois (21 November 2016) –Justin Allgaier and the BRANDT Professional Agriculture team gave it everything they had during Saturday's eventful NASCAR Xfinity Series (NXS) Chase finale at Homestead-Miami Speedway, putting the capper on a successful NASCAR season.
Leading laps and spending most of the day inside the top five, Allgaier finished the 300-mile race in sixth for third in the overall Chase for the NXS championship, tying his previous career best effort in the NXS point standings. The No. 7 BRANDT team ended the 2016 season with 13 top 5s and 27 top 10s (in 33 races).
"Justin and BRANDT have forged an amazing partnership and I'm very proud of our accomplishments together for the past 5 years," said Rick Brandt, CEO & President of BRANDT. "Personally, I have to pinch myself that two small-town kids are succeeding at NASCAR's highest levels."
"We've done some great things this year, including the innovative Let's Talk Food initiative with WinField and our friends at Chicagoland Speedway," explained Brandt. "And we made it to the Championship 4 with a brand-new race team. We just need to be two spots better in 2017!"
Allgaier will be back in the BRANDT Chevrolet for JR Motorsports in 2017. BRANDT will be the primary sponsor for 18 races next year and an associate sponsor on all other JR Motorsports entries.
"This has been so much fun this season. We've had a blast," said Allgaier. "I'm bummed that we didn't get a better finish for BRANDT and for our guys on the team. To be here in this first Xfinity Series Chase and to have the fans and the support that we had from everybody was really special and a lot of fun."
To complete his 2016 race schedule, Allgaier will be racing with fellow BRANDT driver, Miguel Paludo, in the Porsche GT3 Cup Endurance race in Sao Paulo, Brazil, this Saturday. The two racers are running for a championship in their inaugural racing collaboration.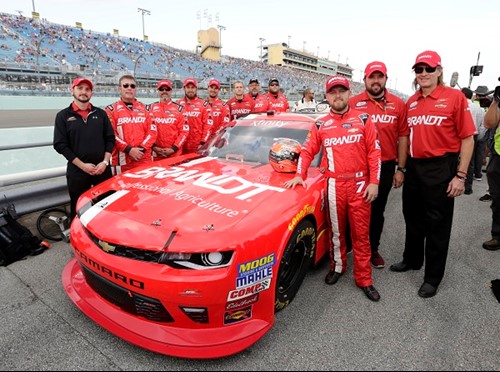 About BRANDT
A leading agricultural company, BRANDT serves growers around the globe. Founded in 1953 by Glen Brandt and his sister Evelyn Brandt Thomas to help Illinois farmers adopt new and profitable technologies, the company has experienced aggressive growth under the leadership of President and CEO Rick Brandt. Innovation, technology and strong customer service are a few of the core beliefs that drive BRANDT today. BRANDT's focus is providing the products and services that give growers the best opportunity for return while building a stronger, healthier and more abundant food supply.