McArdle Named Chairman of Agricultural Retailers Association
BRANDT COO to lead industry membership organization for one-year term
ORLANDO, Florida (2 December 2016) – Tim McArdle, EVP and Chief Operating Officer of BRANDT, has been named the chairman of the Agricultural Retailers Association (ARA) during a December 1 ceremony at the ARA Conference and Expo in Orlando.
McArdle has served as the General Manager of the BRANDT Retail Ag division for 15 years. McArdle received the gavel from Harold Cooper, CEO of Premier Ag Co-Op, and will serve a one-year term.
"I'm incredibly humbled to take on this role and I look forward to working with ARA to provide leadership for our industry," said McArdle in accepting the gavel. "I see my job as helping our industry maintain our freedom to operate in a highly regulated environment."
McArdle is also a member of the Board of Directors of the Agricultural Retailers Association, Fluid Fertilizer Foundation, Responsible Ag and AgGateway. He also serves on the BRANDT Board of Directors.

"I heartily congratulate Tim," said Rick Brandt, President & CEO of BRANDT. "This is a significant position of industry leadership. And in this time of uncertainty, the position is crucial for our future. We're very proud to have Tim on the BRANDT team and working for all of us in the industry."

Before joining BRANDT, McArdle, 63, was a partner and General Manager of Trace Chemicals. McArdle was with Trace for 25 years. McArdle grew up on a farm in south Alabama and received his Master of Science Degree from Auburn University. He resides in Pekin, Illinois with his wife Sherrie.

McArdle is the third ARA president to come from the BRANDT organization. Glen Brandt, the founder of BRANDT, was president of the NFSA in 1972 and Harry Wallner, then president of BRANDT, served as NFSA president in 1982. (The National Fertilizer Solutions Association was the predecessor to today's ARA.)

"I'm looking for big things out of Tim as chairman of the ARA," said Glen Brandt, founder of BRANDT. "While we had a lot of different issues when I was the president of NFSA, we were also fighting for our freedom to operate and to help the farmers that feed us all. Tim is the perfect person to help lead that charge."
The Agricultural Retailers Association serves as the Ag retail and distribution industry's voice. The ARA advocates before Congress and the Executive Branch to ensure a profitable business environment for members.

Upon accepting the gavel, McArdle outlined his goals for the coming year including cultivating membership and increasing participation of current members.

"There are still a number of retailers who are not members, so my message to my fellow ARA members is to encourage others in your state and your region to join and participate," McArdle said. "ARA represents the retailer's freedom to operate better than any other organization. Help us continue that work because we're not sure what the next challenge will be."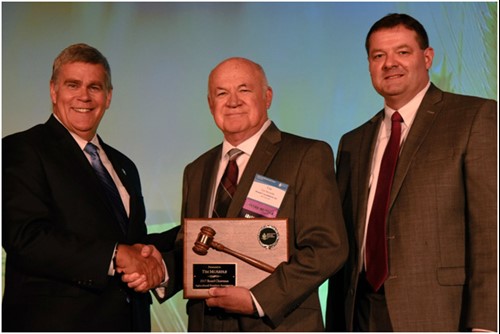 About the Agriculture Retailers Association (ARA)
The Agricultural Retailers Association (ARA) is a nonprofit trade association representing the interests of retailers across the United States on legislative and regulatory issues on Capitol Hill. As the political voice of agricultural retailers, ARA not only represents its membership but also educates members on the political process and important issues affecting the industry. For more information on current legislative and regulatory issues impacting agricultural retailers, visit www.aradc.org.
About BRANDT
A leading agricultural company, BRANDT serves growers around the globe. Founded in 1953 by Glen Brandt and his sister Evelyn Brandt Thomas to help Illinois farmers adopt new and profitable technologies, the company has experienced aggressive growth under the leadership of President and CEO Rick Brandt. Innovation, technology and strong customer service are a few of the core beliefs that drive BRANDT today. BRANDT's focus is providing the products and services that give growers the best opportunity for return while building a stronger, healthier and more abundant food supply.