June 26, 2017
Managing Two-Spotted Spider Mites
Life Cycle and Background
Two-Spotted Spider Mites are a chronic pest of soybeans in Illinois typically during hot and dry weather. Outbreaks commonly occur on field edges and can significantly reduce yield in the affected areas. "Hot spots" can also develop a considerable distance from the field edges where winds have carried the females further into the field.
Two-Spotted Spider Mites overwinter in field margins and grass areas.
Females lay eggs on the underside of leaves where they can develop in a cool and protected area.
Populations increase dramatically with favorable conditions, specifically hot and dry conditions.
Economic Thresholds
BRANDT Professionals recommend spraying immediately after seeing any visual bronzing or discolorment and a drastic change in weather pattern is not imminent in the next 24 hours.
Environmental Impacts on Populations
Environmental conditions play a major role in impacting Two-Spotted Spider Mite populations. Most consider a "rain event" enough to stop an outbreak. However, rain events where hot/dry conditions resume quickly only slow down populations, they do not reduce them.

12 to 24 hour periods with cooler than 85º and 90% humidity are the correct conditions to reduce populations. Pathogens will develop at that point and a population collapse is likely to occur in 1 to 3 days.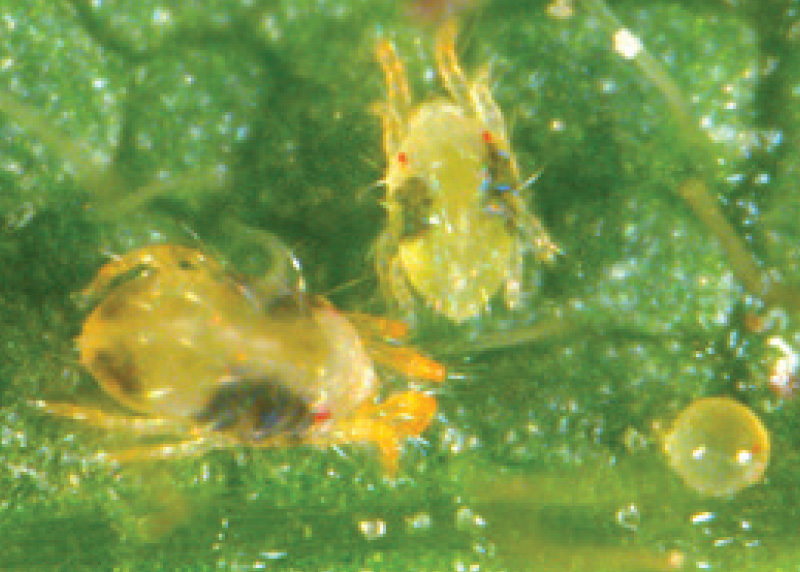 Key Management Options
Insecticides Options
Use 1 pt/ac of either Dimethoate or Chlorpyrifos.
Bifenthrin at 6 oz/ac.
Combination of Bifenthrin and Chlorpyrifos.
Syngenta® Agri-Mek® SC at 1.75-3.5 fl oz/ac.
Acidifiers
Spray solution must be under a 5 pH for adequate control. BRANDT SMART TRIO® at 1 qt is a great option.
BRANDT® INDICATE 5® is also another option to acidify the solution.
Other Key Points
Coverage is key. 20 gal/ac at 40 psi. Minimum.
Spray whole fields. Not just severely affected field edges.
Look out for other insects as well before spraying.
Follow up applications may be necessary.
Foliar nutritionals like BRANDT SMART TRIO, SMART B-MO™ might also be suitable tank mix partners for additional applications. BRANDT SMART QUATRO® with an acidifier would also be a great option.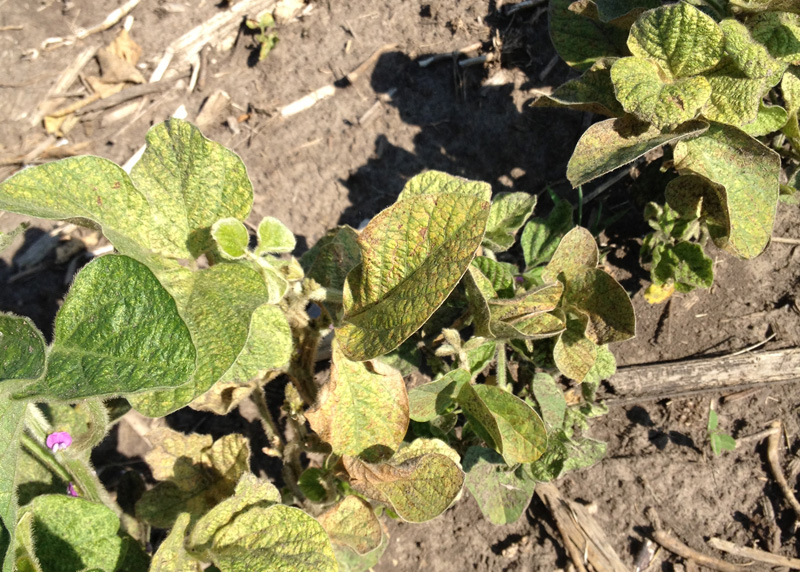 Higley, L.G., Boethel, D.J., (1994). Handbook of Soybean Insect Pests: Lanham MD: Entomological Society of America.
Brandenburg, R.L. & G.G. Kennedy. 1987. Ecological and agricultural considerations in the management of twospotted spider mite. Agri. Zool. Rev. 2: 185-235.
The marks BRANDT, BRANDT Smart Quatro and BRANDT Smart Trio are registered trademarks of BRANDT Consolidated, Inc. All other trademarks, product names and company names that appear on this document are the property of their respective owners or licensees, who may or may not be affiliated with, connected to, or sponsored by BRANDT Consolidated, Inc.