October 13, 2016
New Rootworm Resistance Developments in 2016
Western Corn Rootworm, Diabrotica virgifera virgifera, is one of the most economically damaging pests to corn in the United States.  Billions of dollars' worth of crop loss is caused each year by this pest.  Transgenic products that control corn rootworm were introduced to the marketplace 10+ years ago.  Since then they have provided an economic and safe way to protect against this devastating pest. 
Rootworm resistance was first observed in large quantities in 2011.  In 2011, resistance to Cry3Bb1 (Yieldgard® or Genuity® traits). In 2014, they discovered resistance to mCry3A (Agrisure® traits).  Now, in 2016, resistance to Cry34/35Ab1 (Herculex® and Smartstax® traits) has been documented.
In June, Iowa State University scientists led by Aaron Gassmann published another study.  This time on populations showing incomplete resistance to Cry34/35Ab1, one of the 2 rootworm traits in SmartStax and AcreMax® Xtreme. The scientists tested rootworm populations from fields in central, southeastern and southwestern Iowa. Of greatest concern were fields planted to Cry34/35Ab1 alone (Herculex® RW), which showed more than two nodes of root injury, and fields planted to a pyramid with Cry34/35Ab1 (SmartStax® and AcreMax® Xtreme), which showed greater than one node of injury.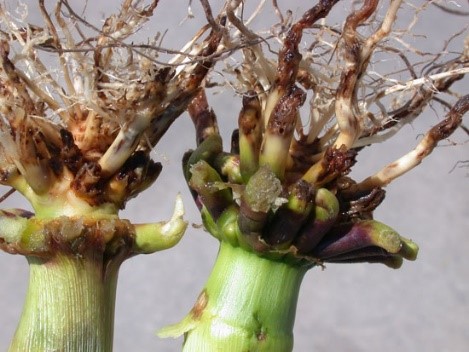 There is now a low level of resistance to Cry34/35Ab1.  The Herculex RW trait that has been very good at controlling RW.  Below ground protection of SmartStax® and AcreMax® Xtreme has relied on Cry 34/35Ab1 heavily in areas where RW's have developed resistance to Cry3Bb1 (VT3P) and mCry3A (Agrisure).  It is also the RW trait that has proved to be difficult to breed corn with.
There are several options for growers to combat RW resistance.  Continued use of two mode of action pyramided products.  Soil Insecticide on fields in addition to pyramided products where issues have been noted.  Rotation to soybeans.  Controlling adult populations with foliar insecticides in some cases. 
Monsanto is in development of a new rootworm trait developed with RNAi technology (MON 87411). MON 87411, will be marketed as SmartStax® PRO.  RNAi produces a gene that malfunctions RNA production when eaten by corn RW's. 
 Jakka, S. R. K. et al. Broad-spectrum resistance to Bacillus thuringiensis toxins by western corn rootworm (Diabrotica virgifera virgifera). Sci. Rep. 6, 27860; doi: 10.1038/srep27860 (2016).