September 05, 2019
Programs for Creeping Bentgrass to Combat Summer Stress
The transition zone of the United States offers a unique challenge for golf course superintendents (GCS's). Cool and/or warm season turfgrasses often struggle due to exposure to high summer heat and adverse winter weather, respectively. While creeping bentgrass (Agrostis stoloniferous L.) cultivars are being bred for better heat tolerance, many golf courses still have older varieties that are susceptible.  Trials in this zone offer us a worse case scenario to test our nutritional IPM programs. The goal of this approach is to offer GCS's with a competitive edge during the most adverse environmental conditions faced each summer in states like North Carolina, Virginia and Tennessee. 
Did you know that creeping bentgrass belongs to the tribe Aveneae, which contains two genera Agrostis (major) and Phleum (minor)? Interestingly, even though the Agrostis genus thrives in temperate and subarctic climates, many creeping bentgrass cultivars are being managed in the transition zone on putting greens because of breeding improvements. In these scenarios and due to the high cultural intensity, an integrated approach is required to maintain turf vigor, while offering acceptable playability throughout the summer and early part autumn.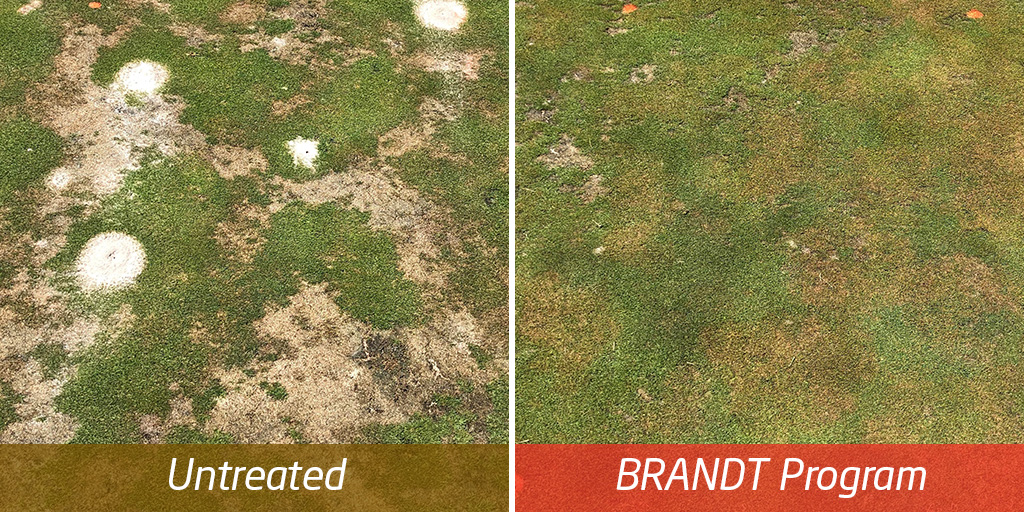 Similar to our anthracnose programs on Poa annua putting greens, we tested a combination of BRANDT nutrient formulations, potassium phosphite, seaplant extract and fungicides in 2019 at the University of Tennessee (see below). Manni-Plex® Grow, NutriGrow® Magnum, BRANDT® Seaweed Max, Daconil Ultrex®, and Torque™ Fungicide (on right); Untreated Control (on left).  Photo taken August 29, 2019
The marks BRANDT and Manni-Plex are registered trademarks of Brandt Consolidated, Inc. All other trademarks, product names and company names that appear on this blog are property of their respective owners or licencees, who may or may not be affiliated with, connected to or sponsored by Brandt Consolidated, Inc.