March 28, 2018
Recommendations for Soybeans-on-Soybeans in 2018
The profitability of soybeans has surpassed corn in recent
years leading many growers to consider soybean-on-soybean production.
Tillage
Conventional tillage of soybean residue is key to reducing the survival of spores that could potentially infect the following soybean crop. Where tillage is not an option, conservation tillage or no tillage will have to suffice, but could be yield reducing.
Row Width
Narrow rows are recommended.
A University of Illinois study, funded by the Illinois Soybean Association, showed 15" rows yielded 1.5 bushels more than 30" rows.
If White Mold was present in the previous soybean crop,
utilize 30" rows and plant a variety with strong tolerance to
White Mold.
Planting Date
Planting date has been the single largest driver of soybean
yield in recent years.
Yield increases of 20% have been observed with April planting dates over traditional May planting dates. This trend will also apply in soybean-on-soybean rotations as it does in traditional rotations.
Seeding Rates
A good rule of thumb is starting around 130,000 seeds/acre through early May and add 5,000 plants/acre for every week delayed past May 1.
Please consult with your seed adviser for field-by-field recommendations. 
Variety Placement
Evaluation of the previous season foliar and root diseases is a must. If scouting was not performed, you must plan for the worst.
Utilizing a variety that is robust in its resistance to Brown
Stem Rot, Sudden Death Syndrome, White Mold, etc. is crucial.
Rotating varieties is recommended but not required if there
wasn't a severe disease outbreak in the prior year.
Seed Treatments
Fungicide and insecticide seed treatments are required.
Full rates to combat early season seedling blights and
Phytophthora infections are crucial.
ILeVO® is a fungicide seed treatment. ILeVO is very effective and highly recommended in soybean-on-soybean rotations and required on any field with a SDS history.
Poncho®/VOTiVO® is recommended on most acres. It is
effective on (SCN) Soybean Cyst Nematodes.
Nutrition
Fertilizing ahead of soybeans is recommended in a soybean-on-soybean rotation.
An 80 bushel soybean crop removes 156 lbs of Potash and
130 lbs of DAP.
Potassium is especially key in defending against disease and critical for assisting in nodule formation.
In-Season Treatments
Foliar fungicides and insecticides have shown to provide consistently positive return on investment in soybeans. Several diseases like Frog Eye Leaf Spot and Septoria Brown Spot overwinter in residue from the previous soybean crop and can reduce yield and soybean quality.
Foliar nutrition products have also been critical for top soybean yields. Products like BRANDT Smart Quatro® provide essential elements like Sulfur, Zinc, Molybdenum, Manganese, and Boron to assist at critical reproductive timings. BRANDT foliar nutritional products also assist with herbicide metabolism and relieve crop stress.

Yield Results
A University of Wisconsin Study shows that soybeans-on-soybeans yield the same as soybeans in a corn/soybean
rotation.
However, third and fourth year soybeans take a 4 bushel loss.
Fifth year soybeans yield 6 bushel less.
Continuous soybeans are 7 bushels less than a traditional
soybean/corn rotation.
Soybeans after 5 years of corn increases yields by 4 bu/ac.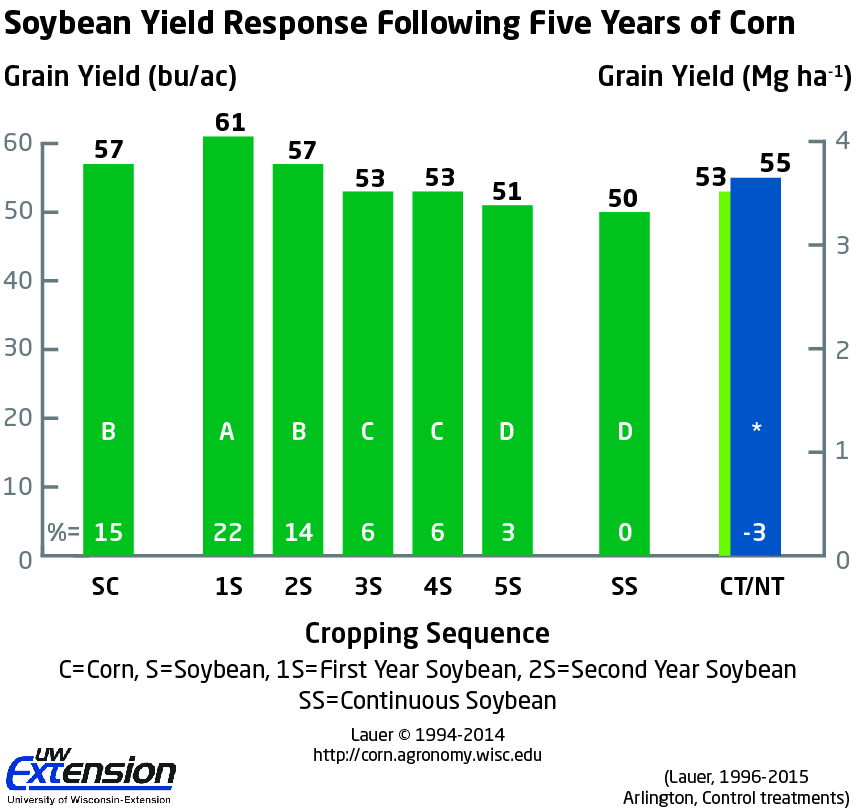 Lauer 1994-2014
corn.agronomy.wisc.edu
(Lauer, 1996-2015, Arlington, Control Treatments)
The mark BRANDT is a registered trademark of BRANDT Consolidated, Inc. All other trademarks, product names and company names that appear on this document are the property of their respective owners or licensees, who may or may not be affiliated with, connected to, or sponsored by BRANDT Consolidated, Inc.