October 30, 2018
Winter Annual Control
With fall harvest wrapping up. Retailers and growers will turn their attention to fall applications of nutrition and crop protection. Fall is a great time to consider weed control for problematic winter annuals. Below is a blog post from 2017 about recommendations for control.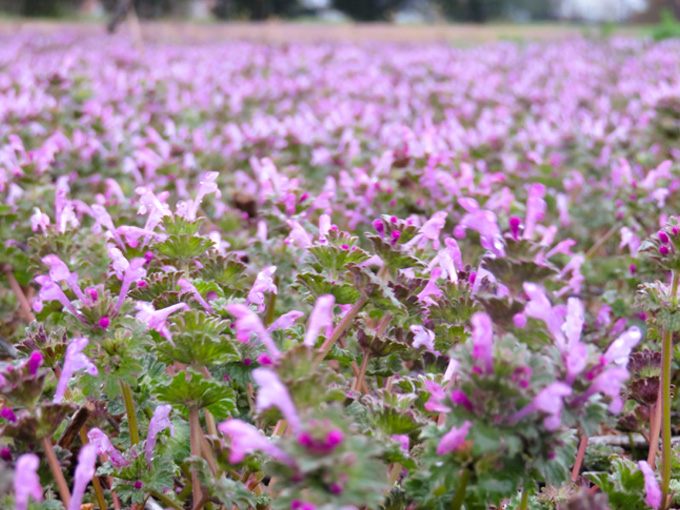 Due to the record early spring temperatures WINTER ANNUALS are rapidly growing in Central Illinois.
Potential Issues Associated with Winter Annuals
WINTER ANNUALS sequester key nutrients that are needed for top production. Unlike many cover crops, the mineralization of these sequestered nutrients aren't released in time for utilization by the 2017 crop.
WINTER ANNUALS (specifically Henbit) can be a host for Soybean Cyst Nematode (SCN). SCN can get a head start and produce another generation of SCN even before soybeans are planted.
Fields prevalent with WINTER ANNUALS in the spring can vary significantly in soil temperature vs. herbicide treated fields or tilled fields. This can influence seedling emergence, early growth, and even disease susceptibility.
Black Cutworm Moths (BCM's) invade the Central US from the Southern US. BCM's look for "green" from high above, and prefer to lay their eggs in fields that are green with WINTER ANNUALS.
Yield Loss (University of Nebraska Research)
Not controlling WINTER ANNUAL weed prior to planting corn or soybeans results in...
80% of the time there is a 5%+ yield loss
66% of the time there is a 10%+ yield loss
Controlling Winter Annuals
There are several options that are very effective for controlling WINTER ANNUALS
Fall Herbicide Applications. 2,4-D and Dicamba in conjunction with a residual based product works very well.
Fall Seeded Cover Crop. Crops like cereal rye or oats do a fine job controlling weeds in general until spring termination.
Early Spring Herbicide Applications.

 

Early spring application or spring burndown applications of 2,4-D, Dicamba, and glyphosate in conjunction with a residual based product.
Conventional Tillage

 

in the fall and/or spring.
Fall vertical tillage does not work in suppressing or controlling WINTER ANNUALS
Other Management Considerations
Consider a foliar insecticide if WINTER ANNUALS are present in your fields during the Black Cutworm flights.
Seed applied treatments (fungicide and insecticide) to
assist against cooler soils and early season pests like bean leaf beetles.
Early season nutrition products (soil or foliar applied) to provide for sequestered soil mobile nutrients such as nitrogen and sulfur.
Mock, V., Creech, J.E., Johnson, B., Faghihi, J., Ferris, V., Westphal, A., (Purdue), and Bradley, K., (University of Missouri). 2007. Winter Annual Weeds and Soybean Cyst Nematode Management. Purdue Extension Bulletin. https://www.extension.purdue.edu/extmedia/ws/ws-36.pdf. November 2007.
Bernards, M., Sandell, L. 2011. Control Winter Annual Weeds Early To Protect Crop Yield. University of Nebraska Lincoln. Nebraska Cropwatch. http://cropwatch.unl.edu/control-winter-annual-weeds-early-protect-crop-yield. March 18, 2011.